The Kalighat paintings came into existence during the 19th century in the kali temple area, Kolkata on the ghat of the Buri Ganga. Earlier these paintings were souvenir brought by devotees of the Kali temple at Kalighat. Kalighat Paintings are characterized by bold colours, broad sweeping brush lines and simplification of forms.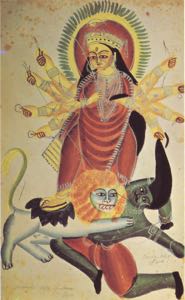 Earlier Kalighat Paintings were dedicated to Hindu mythology only but later the artists started including everyday social and political themes. This marked the growth of this art. Later, when this art started becoming famous among the devotees many artists from the rural areas of Bengal migrated to Kalighat and many artists who earlier painted out of hobby took this art to full time profession. The boom in the demand of these paintings let not so wealthy houses adorn these paintings.
As the modernization cropped in, the themes of these paintings expanded and some artists even painted Imam Husain's horse and many other Islamic themes in order to attract muslim clientage. Kalighat emerged as a clever, expressive art combined with modern and traditional techniques. With many artists migrating around the temple soon popularized it by the name of Artists' Colony or Pata-Para.
As many artists migrated from several rural parts of Bengal each of them had different perception about the changing environment and new modern culture that was talking over. Thier paintings could efficiently portray the hypocrisy, urban life, feminism and liberal attitudes of the people.
Later, when Kalighat paintings got too common and much loved they were sold at prices as low as rupee 1 for 16-18 paintings so that even people with less income could afford it go now. As it culture was shifting, the new rich of Indian society were too much taken by the western culture that they never paid attention to the budding Indian art. But it was later identified by Rudyard Kipling for the very first time. His love for Kalighat painting grew so much that he donated many painting to the Victoria and Albert Museum in London in 1917.
These paintings were actually a depiction of their thoughts, their fear of the rapid changes that were taking place in the society at that time. Popular themes at time were babus boasting their mistress, Jhansi ki Rani on horseback and cat with Hindu holy mark on her forehead.
Kalighat paintings gets its attention due to its rawness as they were simple drawings made using brush and ink from the lampblack. These beautiful hand coloured paintings continued till early twentieth century after that they ended up in museums and private collections but never left the heart of art lovers.